This is a Sponsored post written by me on behalf of TABASCO® Original Red. All opinions are 100% mine.
My husband loves hot, spicy food- me, not so much.  I like things like buffalo wings, but he loves using hot sauce on just about everything... chicken, pizza, eggs- you name it, he's probably added it.  He's always encouraging me to try it also, saying that it doesn't just add spiciness but that it enhances the flavor and makes it taste so much better.

                                                  
TABASCO® Original Red was the first sauce introduced by the McIlhenny family back in 1868 and continues to be their most popular sauce of 6 total sauces.  And it's true that it isn't just about the heat, it's about what the heat does to the food.  The simple combination of salt, red pepper, and vinegar are perfected in a 3-year aging process that produces a hot sauce that has the ability to bring the most out of your food, simply enhancing the flavor.
So with the Super Bowl coming up (Feb. 6, 2011), I wanted to be able to make some game day snacks with my husband's favorite flavor enhancer.  And with the help of TABASCO's Game-Day Party Menu it'll be easier than ever.  I'm thinking some hot wings, the Spicy Spinach & Artichoke Dip sounds delicious, and I'd love to try my hand at a pizza as well.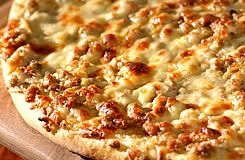 Their Pizza Perfected page has all kinds of recipes for making the perfect pizza, whether it's adding to delivery, frozen, or making your own homemade pizza.  My husband would think I was a champ if I made a homemade sausage or BBQ chicken pizza.  But even if I don't have time for that, I can always use their recipes to save money by adding my own toppings to a delivery pizza and giving it a little something extra with the ultimate topping- TABASCO sauce.  Now I'm all set for game day, or any day, with some great snack ideas!
Do you enjoy using hot sauce on food- what kinds of recipes have you tried?