This blog award is just so adorable... thank you so much to Jennifer @ Life with the Lebedas!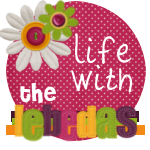 The rules for this award are:
1. Thank the person who gave this award to you.
2. Copy the award and put it on your blog.
3. List three things which you love about yourself.
4. Post a picture you love.
5. Tag five people you wish to pass this award on to
Ok, so 3 things I love about myself (ugh, this is hard)...
That I'm a stay at home mommy of 3 beautiful daughters

That I have no health problems (knock on wood)

Umm, I can't think of anything else... oh ok, that I'm a good listener & people feel comfortable around me
Alrighty now that the torture is over with- onto a picture I love (this was a little easier but still tough to choose just 1 out of all the pics of my wonderful family)
I have so many different pictures I love of my girls individually (and ones with the hubby too of course), but decided to go with this one of my 3 cupcakes together at Easter.
And here's the 5 blogs that I think have that extra
'Cherry on Top'
(and I think you will too):
Now go check out all these fabulous blogs and show them some comment love!! ♥