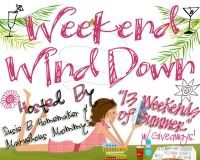 Wanna link up? Here's how:
Become a follower of both hosts- Susie B. Homemaker & Marvelous Mommy
Write your blog post on the theme or copy and paste the question listed. Make sure the "Weekend Wind Down" Button is visible somewhere in the post
Link up your "Weekend Wind Down" post using the McLinky on Sat. or Sun. You will only need to link up once to be seen on all the Blog Hops. (Please link to your actual "Weekend Wind Down" post, NOT your main blog page)
When you link up you also get an entry into the giveaway contest at the end of the summer. We have 2 gift certificates for 2 lucky winners- 1 to
CSN Stores
& another to
Whimsical Creations
. Read full giveaway rules
here
.
This week's question:
When & where was the last time you went to an amusement park? Did you ride on a roller coaster?
My Answer:
I think the last time I was at an amusement park was about 10 years ago at Cedar Point in Ohio. And yes, I rode the roller coasters! My fave was the Magnum XL & the Raptor, my least fave is the Mean Streak- the wooden coaster, it's too bumpy. I think the only one we didn't ride was the newest one at that time, the Millenium Force, the line was insanely long and well, it looks scary! :D
Ok, here they are again...
EXTRA ENTRIES!!
If you already did these last weekend just fill out the form again but please let us know another item you might pick if you win. :)
Fill out a separate form below for each entry that you do.
---
This linky list is now closed.
What is a blog hop?
Get the code here...