I'm so excited, I received the Versatile Blogger award from Heather at
Mommy Only Has Two Hands
. If you've never visited her blog before, you should definitely go check her out. She writes interesting posts and hosts giveaways as well.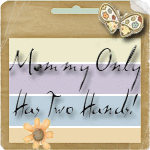 Here are the rules:
1. Thank and link back to the person who gave you the award.
2. Share 7 things about yourself.
3. Pass the award along to
15
5 (15 is just way too many) other bloggers who you recently discovered and think are fabulous.
4. Contact the bloggers you chose and let them know about the award.
7 things about me:
I love wine- my 2 faves are Pinot Grigio (having a glass as I type this) & White Zinfandel

In case you didn't know, I have 3 daughters

I've been married for 12 years

My favorite season is Fall and I love Thanksgiving

My favorite shows are Smallville, Chuck, Grey's Anatomy, House, & Supernatural

I don't like getting my hands messy while eating (ie. ribs) though I will eat it, I try to use a fork

I prefer showers not baths
And the 5 blogs I'm passing this award along to are: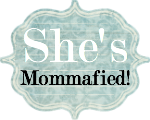 And Kristen from
All the Proof I Need
was lovely to give me the One Lovely Blog award. This is actually my 2nd time receiving this so I won't be passing it along this time, but thank you so much Kristen for thinking of me! :)