If you have children you no doubt read bedtime stories on a regular basis. And I'm sure your child has grown to love a particular book... one that's become their favorite bedtime story. Well get ready to add a new favorite into the bedtime routine!
The Night Night Book
is an adorable board book for young kids all about getting ready for bed and telling your things 'night night' along the way. The storyline may sound familiar but this is a modern day version if you will... there's always room for a new classic.
Instead of saying goodnight to a comb and brush or a bowl full of mush, the young child in The Night Night Book tells his wagon, puzzles, and even glitter glue night night. Written and illustrated by
Marianne Richmond
, The Night Night Book is wonderful and sure to delight your child.
When we first received the book, my 3 yr. old wasn't so sure though. She still wanted her other goodnight book before bed, the one she was familiar with. The next night when I brought out The Night Night Book again, she let me read it to her but then still wanted the other book read afterward.
By the next night though when I gave her a chance to choose between the two, she went for The Night Night Book. She loved pointing out all the things in the book- the crayons and flowers, the slide and ball. She asked for it several nights in a row after that, and it has definitely become one of her top favorite bedtime books.
My 20 month old however was hooked the very first time I read it to her! Night night is how she says goodnight and this book was just perfect for her. The first time I read it, she sat quietly through the whole thing- just watching and listening. Since then she's gotten more involved and also loves to point out different things in the book. Her favorite page is the "Silly dog, chasing squirrels, chasing frogs". She loves to sound like a dog and then "ribbit" like a frog... it's so cute!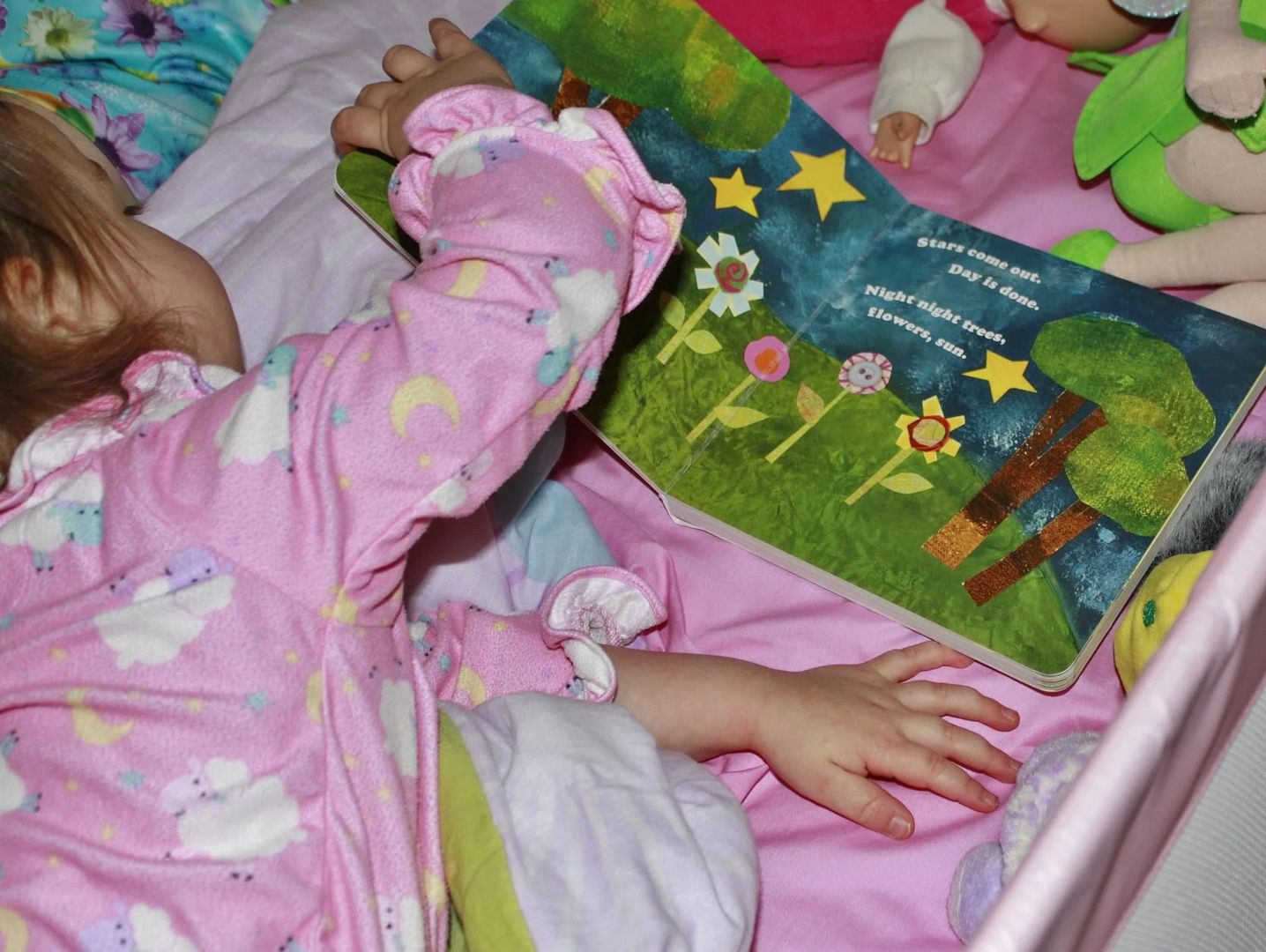 This is definitely a nice addition to our nightly bedtime stories... a new classic for sure. Your toddler or preschooler will love hearing this book and then 'reading' it themselves.
BUY IT:
You can purchase The Night Night Book for only $7.95 just about anywhere books are sold or online at Amazon.com, Barnes&Noble.com, or at Sourcebooks.com
WIN IT:
1 lucky reader is going to win a copy of The Night Night Book for their own!
Ways to enter (
leave a separate comment on this post
for each entry you do):
• Like Marianne Richmond Award-Winning Books on
Facebook
+2 entries
• Follow my blog publicly via GFC
• Subscribe to my blog via Email
•
Follow
me on Twitter
•
Like
me on Facebook
• Enter any of my other giveaways +1 for each
•
Vote
for my blog at The Picket Fence Blogs (can be done daily)
• Post about this giveaway (Facebook, Cafemom, Blog, etc.)
+5 entries, leave link
• Tweet about this giveaway (may be done daily, leave link)
This bedtime book is sure to be a classic: #WIN The Night Night Book via @SusieBHomemaker http://goo.gl/kWHof

#Giveaway ends 6/7
U.S. ONLY
This contest ends on 6/7/11 at 11:59 pm EST. Open to U.S. residents only. The winner will be drawn via random.org and has 48 hours to respond to winning notification email before another winner is drawn. Please make sure your email is visible on your profile or leave with your comment(s).
Disclosure: I received a product in exchange for my review. No other form of compensation was given. All thoughts and opinions are 100% my own and completely honest.