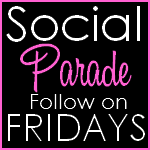 I love doing these Social Parades hosted by Smart and Trendy Moms... they are always so much fun- going around and meeting new bloggers.
If you've never been to my blog before.. Thank You so much for stopping by!!
I have a giveaway that's ending today!!! LOW entries... so odds of winning are good.
(And you get extra entries if you enter my other giveaways, list is located on the top, left sidebar.)
And if you come back tomorrow for my Weekend Wind Down, we're starting the '13 Weekends of Summer' Giveaway Contest... each weekend you link up is an entry into the giveaway!!
Thanks for stopping and I hope you enjoy my site and come back soon!