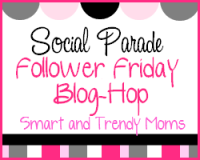 It's Friday again and that means it's time for another Social Parade with
Smart and Trendy Moms
! The Social Parade is a fun way to find some great blogs to read and to gain new followers.
I'm so glad you stopped by... please leave a comment to let me know you were here. :) If you'd like, check out my current
giveaway
going thru June 30th and I hope you'll come back to visit again soon.
Happy Blog Hopping and Happy Friday!!