Wow, I feel like I've been AWOL from blogging lately! We celebrated our daughter's 5th Birthday (pics still to come), and we still have to celebrate it 2 more times with other family (such a lucky girl)! And then there's an additional 4 other June birthdays in my family. Whew, I'm always exhausted by the end of this month!!
Well, I decided to do some linking up today (nice and easy, no stress) in order to get myself back out in the blogging community and then hopefully can get started on my other posts (the words are running around in my head, just gotta get 'em on 'paper', so to speak). Ok, without further ado: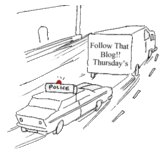 So head over and join in the fun... and Happy Thursday!