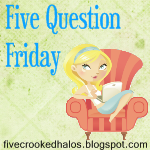 I'm linking up with Mama M. over at My Little Life for 5Q Friday. You can add your link here or there... it's a blog hop so it'll show up on all the lists no matter where you add your link.
1. Do you have an iPhone and, if so, how do you get apps and what are your favorites?
My hubby has one that I share when I need to. We basically only use free apps and we download 'em right from the Iphone. I love playing card games- Cribbage, Spades, Euchre... I also like being able to check my email from the Iphone.
2. What is your fondest memory of K-3rd grade?
I really don't have too many memories from when I was that young, but it'd probably be from Kindergarten when I used to take piano lessons & I had a crush on a little boy who also played piano (Antonio I think?). He played much better than I did and my piano playing days didn't last long.
3. What makes you cringe at the thought of touching?
Um, well I guess a dead body, or a live one that's been cut open for a surgery... like the insides (*cringe*). I have to look away during some of the graphic scenes of Grey's Anatomy.
4. If you could have any celebrity show up on your doorstep who would it be and why?
I really like Jennifer Aniston, she seems down to earth and friendly, like someone you could just hang out with. And also the cast from any of my fave shows- Grey's Anatomy, Smallville, & Supernatural (the Winchester boy's are HOT).
5. What would you say is your best physical feature?
Well according to my hubby, it's my backside (ahem, the junk in my trunk). Since having 3 kids it has seemed to expand!